Is First PREMIER Bank Platinum MasterCard the Worst Credit Card Ever?
Few financial services brands have suffered the recent public spotlight with greater dread and discomfort than credit card issuers. In past cycles of scrutiny, the answer to credit card industry critics was "increased transparency" — if consumers could understand the terms and conditions of their credit cards, they had some chance of actually abiding by them. But transparency alone hasn't worked, given the dire state of household consumer credit debt, estimated at $8,000 – $10,000 for every American family with a card or close to $1 trillion dollars in total. Even upscale customers find their mailboxes largely bereft of enticing offers and existing credit lines curtailed or canceled. There's no doubt that consumers overspent, but the card industry also overreached, creating concepts like "universal default," where card issuers hike interest rates when consumers made late payments to a different, unrelated lender. Double cycle billing to maximize interest charges for consumers who occasionally carry a balance. Fees for exceeding credit limits even when purchases have been authorized by the lender. Such practices culminated in President Obama's signing the Credit Card Accountability, Responsibility and Disclosure Act (notice the clever acronym . . . Credit CARD Act) shortly before Memorial Day, promising a new era of better behavior by all parties.
Even with the new regulations coming on line nine months from now, there will still be plenty of room for shenanigans for those who rely on the act's protections and ignore the fine print. Take a solicitation BrandCultureTalk received for the First Premier Bank Platinum MasterCard.
At first blush, this offer looked pretty great: a 9.9% APR on all purchases and a 5% rebate on all on-time payments for 12 months. What's not to like? What this card gives on the one hand it takes away — and then some — with fees . . . and more fees. Account Set Up Fee: $29. Program Fee(?): $95. Annual Fee: $48. Monthly Servicing Fee: $7/month or $84 a year. An additional card will set you back another $20. For those savvy consumers who think they can make up these fees with the 5% purchase rebate, think again: the credit line on this card can be as little as $250. The final analysis: the First PREMIER Bank Platinum MasterCard, less the fees for the first month leaves you with $71 of credit available and $179 in new debt. And this is their "Platinum" card? After six months, you may be able to increase your credit limit, but you'll pay another $25 fee each time your limit is bumped up. There are fees for obtaining Internet access to your account ($3.95), automatic payments ($11 or $7 for each payment), Priority Mail for your card ($35). Incredibly, the fees keep coming even after you close your account; in addition to ongoing interest, there is an additional fee of $3 a month if you close your account, but have an outstanding balance of $20 or more.
Rather than focus on fees, First PREMIER understandably chooses to accentuate the positive ("we didn't take TARP funds") in a jaunty little intro called It's Time for UP!, summoning sufficient positive momentum to rival that of Levitra. And here's President and CEO Dana Dykhouse promoting "U + PREMIER. Stronger Together."
No amount of peppy branding or "UP" messaging can cure the confiscatory fees that put this card in the running for "worst ever." Distracting sophistry aside ("Response in 60 Seconds!" Low APR!" "5% Rebate for on-time payments!"), this card is a financial disaster. Now First PREMIER doesn't target people with pristine credit with this card "[b]ecause we know that bad things happen to good people." But hasn't the sub-prime consumer suffered enough?  A different card from First PREMIER features an annual fee of $75 and an unprecedented 79.9% APR: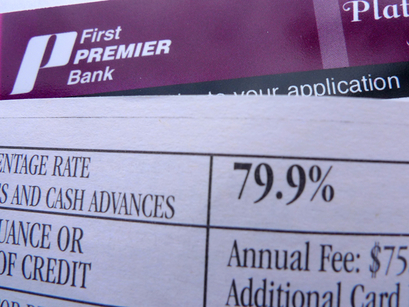 It's pretty clear that qualifying for these cards represents less a reversal of fortune than a cure that is worse than the disease. Folks with damaged credit should look elsewhere — department store "house" charge cards, gasoline cards, secured cards, etc. — to rebuild their FICO scores. And others with better credit profiles can find far better Platinum MasterCards to shoot for . . . like that offered by the Farm Bureau Bank. Currently it offers an APR of just 7.24% with no annual fees.